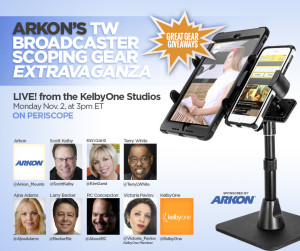 Join me Monday 11/2 for the ARKON ‪TW Broadcaster‬ Giveaway Event
If you really care about your audience and about being comfortable using your mobile devices, or you just started planing your Holiday shopping this event is definitely for you. Join our dream team on Monday, November 2nd at 3PM EST for a chance to win one of the great prizes. I'll be giving away an Arkon TW Broadcaster RM179
to one of my viewers on Periscope.
Our Team:
@Arkon_Mount 
Terry White 
@Victoria Pavlov 
@Ajna Adams 
@Larry Becker 
@KelbyOne
@RC Concepcion
@Kim Garst 
My Rules to chance to win:
Follow me and all of us
Join me on our LIVE event on Monday , November 2 via Periscope
and the last rule will be announced during our LIVE broadcast on Monday.
You can use my promo code "Pavlov" at any time on Arkon.com  and you will get 10% off your purchase.